Lodgeson Bleeper System
The Lodgesons bleeper system is designed for people with restricted movement.
The system will operate up to 13 functions of a car from just one button, which can be fitted at various positions within the car allowing the driver to operate the functions with fingers, elbows, head etc.
On pressing and holding the button, the system will cycle through the secondary functions of the vehicle, giving a bleep as it passes through each function.
The function is selected by releasing the button at the appropriate bleep. Selecting the same function again will cancel its operation.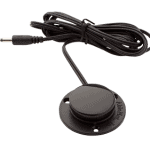 Lollipop Grip (For R200 Keypad)
The lollipop grip is great new alternative to the standard steering ball style control. Simple to use easily gripped and has a soft touch design that greatly increase driver comfort.
The lollipop grip can be used in conjunction with any lodgesons R200 secondary control system. The lollipop uses the same clamp as the standard steering ball.
QUICK RELEASE STEERING BALL (FOR R200 KEYPAD)
Quick release steering ball Lodgesons quick release steering ball is the highest quality available on the market. Features include:
Tilt and rotate keypad
Easily removable from steering wheel
Lubricant free design – no more grease or oil!
Soft touch grip that greatly increases driver comfort
The steering ball can also be purchased on its own as a manual steering aid and has the same great features.
• R200 Keypad Control
The R200 system allows people with restricted mobility to steer the wheel and operate the secondary function of a car safely with one hand.
Simply pressing a button activates the required function e.g., horn, indicator, lights, etc.
R207 – 7 FUNCTIONS
If you want all the basic functions without compromising on quality, then you'll love the R207, which offers up to 7 functions.
It looks great, is really simple to use and is fantastic value.
R207 R207 – 7 Functionscan operate:
indicators
lights (dip/main & flash)
horn
hazards*
illumination for night-time use
Fantastic value
R210 / R213 / R213+Lights
Our best seller. The 10 & 13 function keypad offers all the functions required by today's driver. It looks great, is easy to use and is very competitively priced.

R210/R213 – 10 & 13 functions R210 / R213 / R213+lights can operate:
indicators
lights (dip/main & flash)
horn
hazards*
front wipers – intermittent, low & high speed
front washers
illumination for night-time use
R213 will also operate:
rear wash & wipe
R213+lights also operates:
sidelights on/off
headlights on/off
Flexible mid-range
Mini Keypad for Hand Control
The mini keypad is a hard-wired system designed for use with hand control which enables you to operate up to 13 secondary functions of the vehicle without having to take your hands off your hand control.
• Compatible with all hand control makes and models.
• Green, black-lit illumination for safe operation when driving in the dark
• Indicators will self-cancel on many vehicle
• Dividers between each of the buttons for guidance
The mini keypad operates indicators, lights (dip/main/flash), horn, front & rear wipers & washer and hazards.